Welcome to my shop. I have been working with wood for as long as I can remember. My father, who was also a carpenter, was my inspiration. I would find pieces of scrap wood in my father's shop, saw them, glue different colored pieces of wood together, and do whatever it takes to make my wooden cars. Over the years, woodworking became more of a passion, building furniture, kitchen cabinets and display wall units. I began my journey in the woodturning arena around 2009. As a tool and die maker, I am familiar with most shop equipment and tools and this helped to make the transition into woodturning more transparent.
I have to say that I became addicted to woodturning mainly because I feel that I am in complete command of the design, color and size of the piece of wood I have on the lathe. However, when working on flat work, I am restricted to the print dimensions. Also, I found that woodturning has helped me to further enhance and expand my design capabilities and open my imagination to what nature has to offer. Although I am self taught, I have taken various hands-on classes with world renowned professional woodturners, and attended symposiums and clinics to further develop my skills and vision.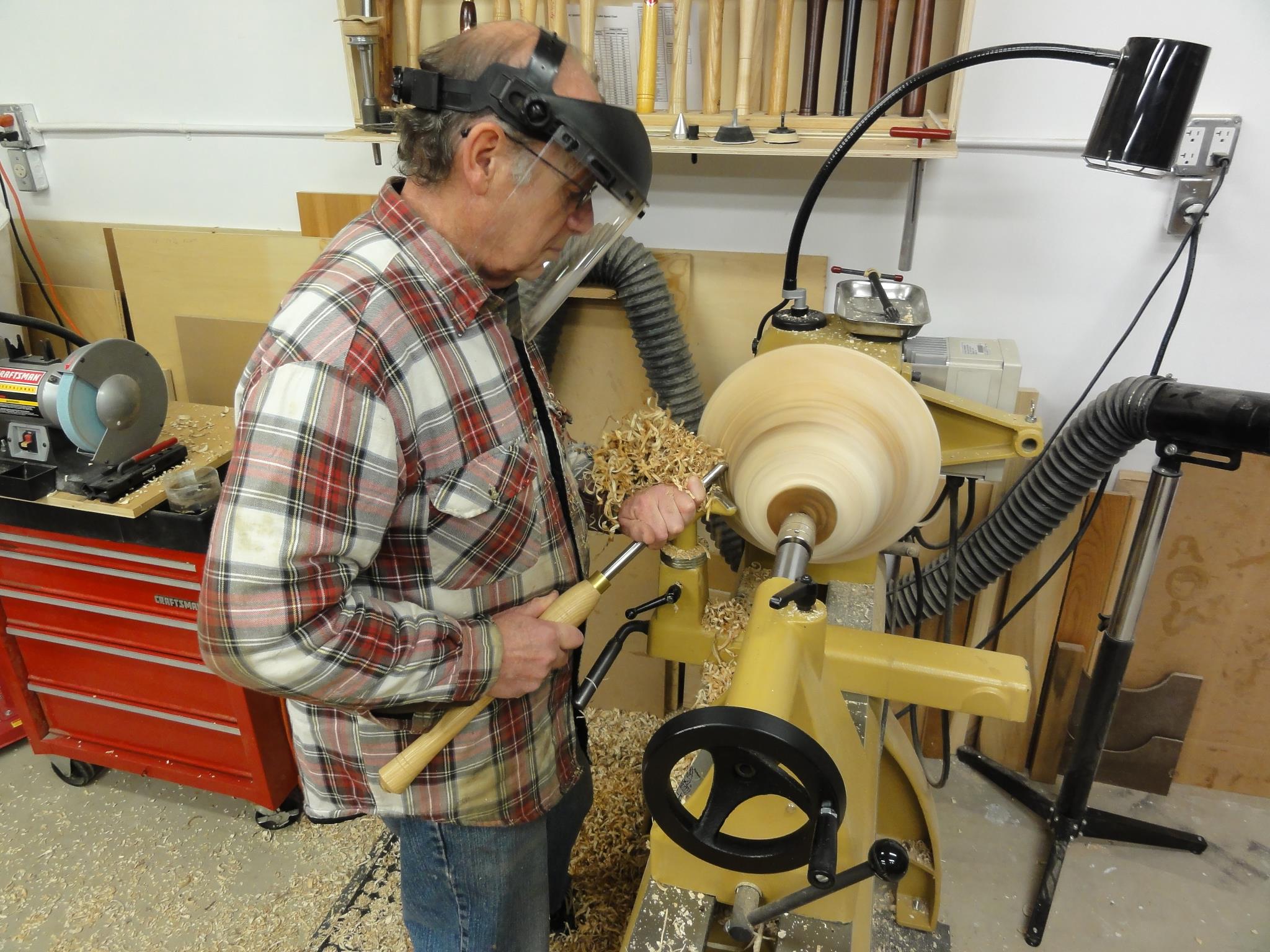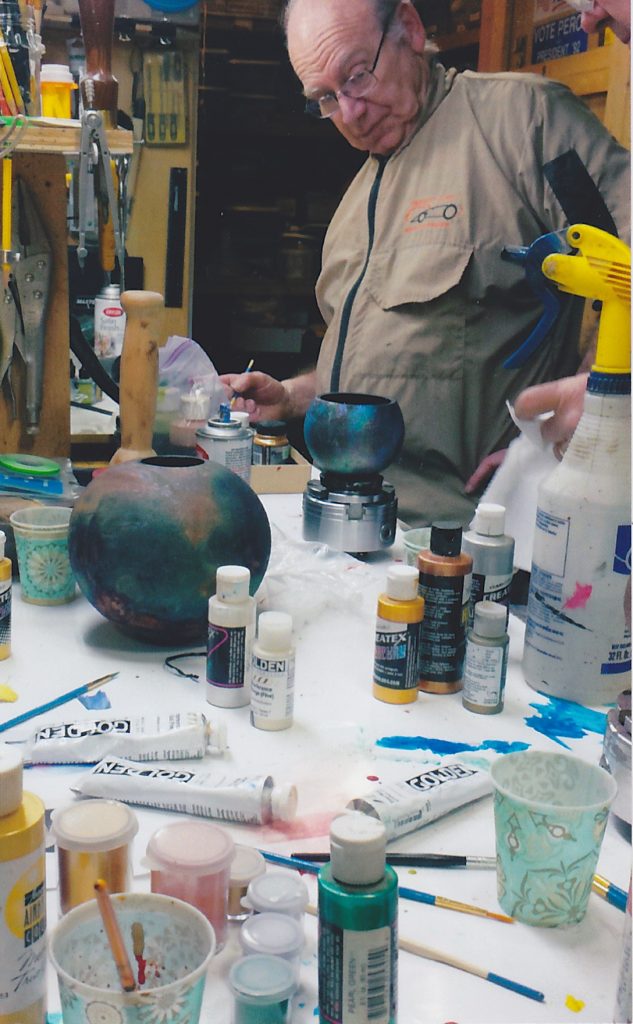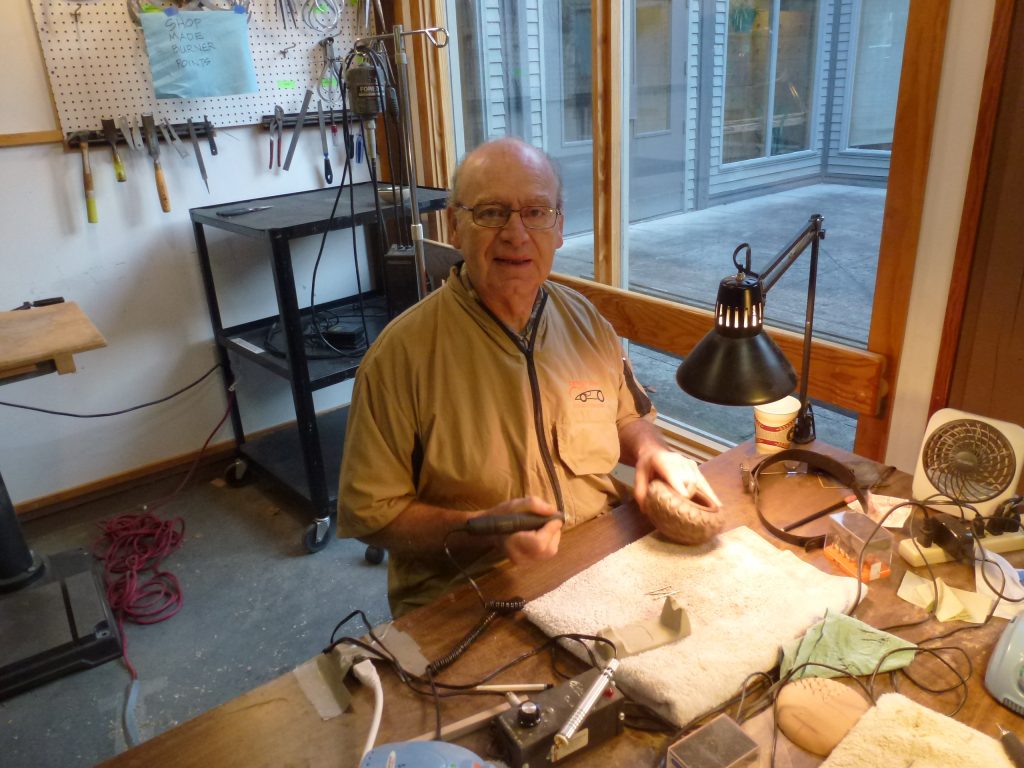 The sky is the limit when it comes to creativity and by using different media the possibilities are endless. The results are unique and quite stunning.
Cherry Hollow Vase
This cherry vase is hollowed, carved and multiple dyes applied. The collar and finial (which is removable) are also dyed black and multiple coats of a gloss finish enhance the character of this piece.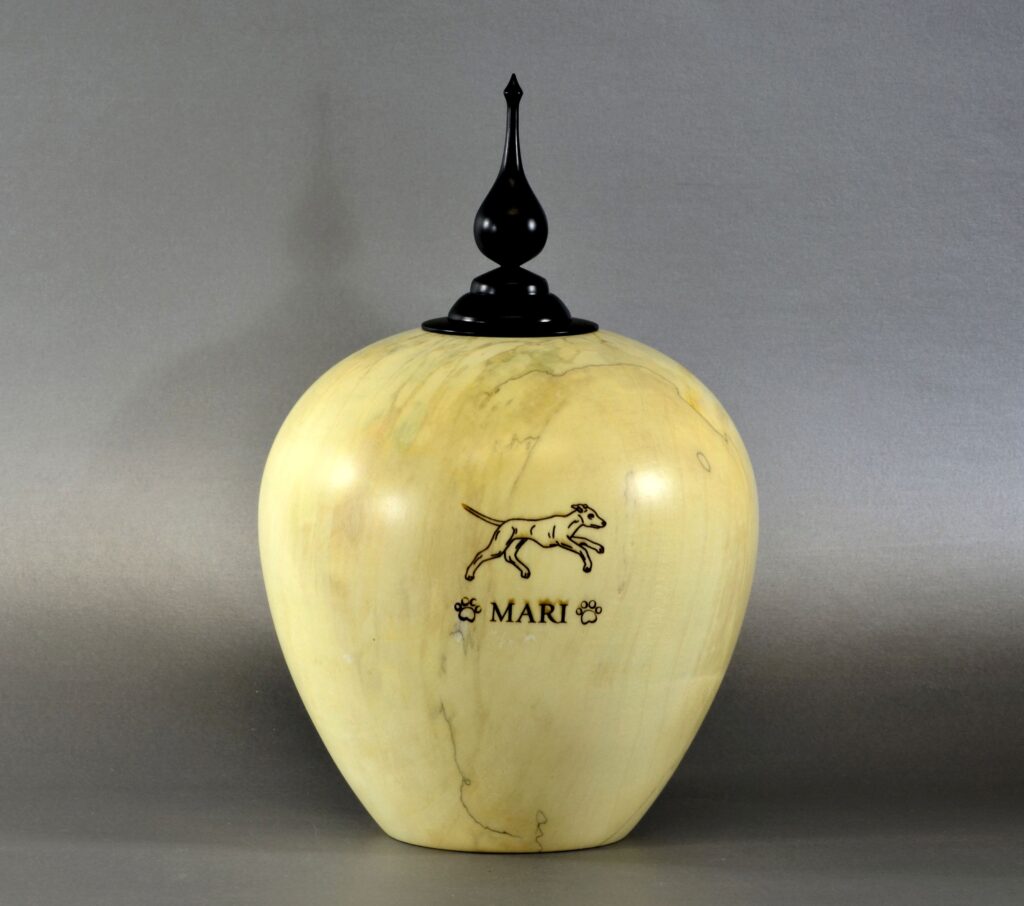 Burial Urn
This Maple Dog Burial Urn has been bleached and both the inside and outside sealed. The dog's name Mari was laser engraved. The finial and collar are threaded.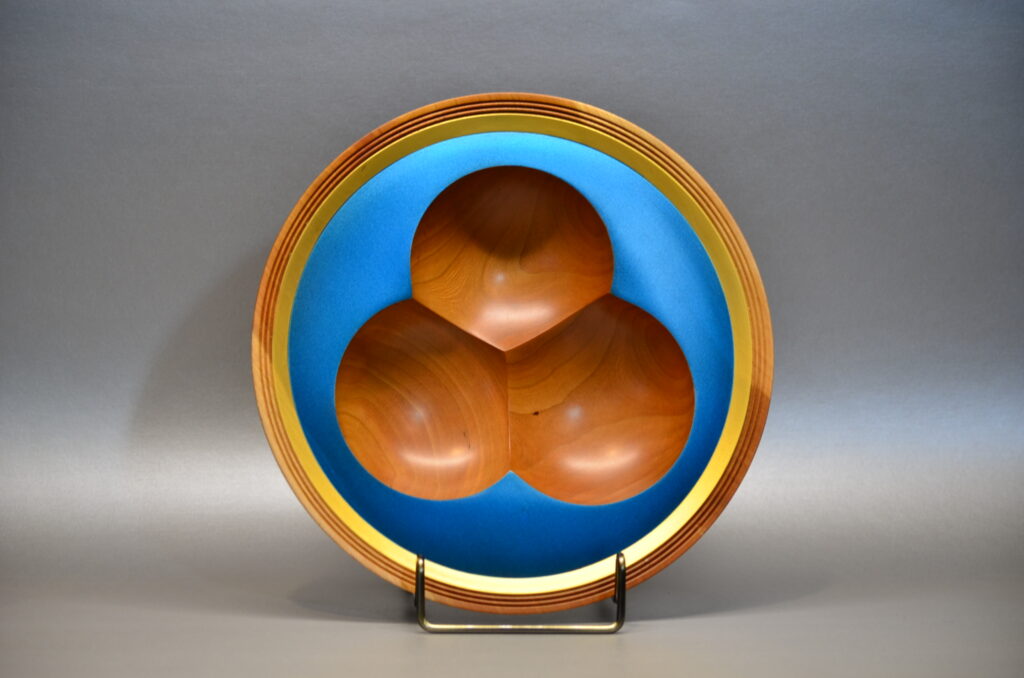 Three in one Cherry Bowl/Platter
Cherry platter with three concentric bowls.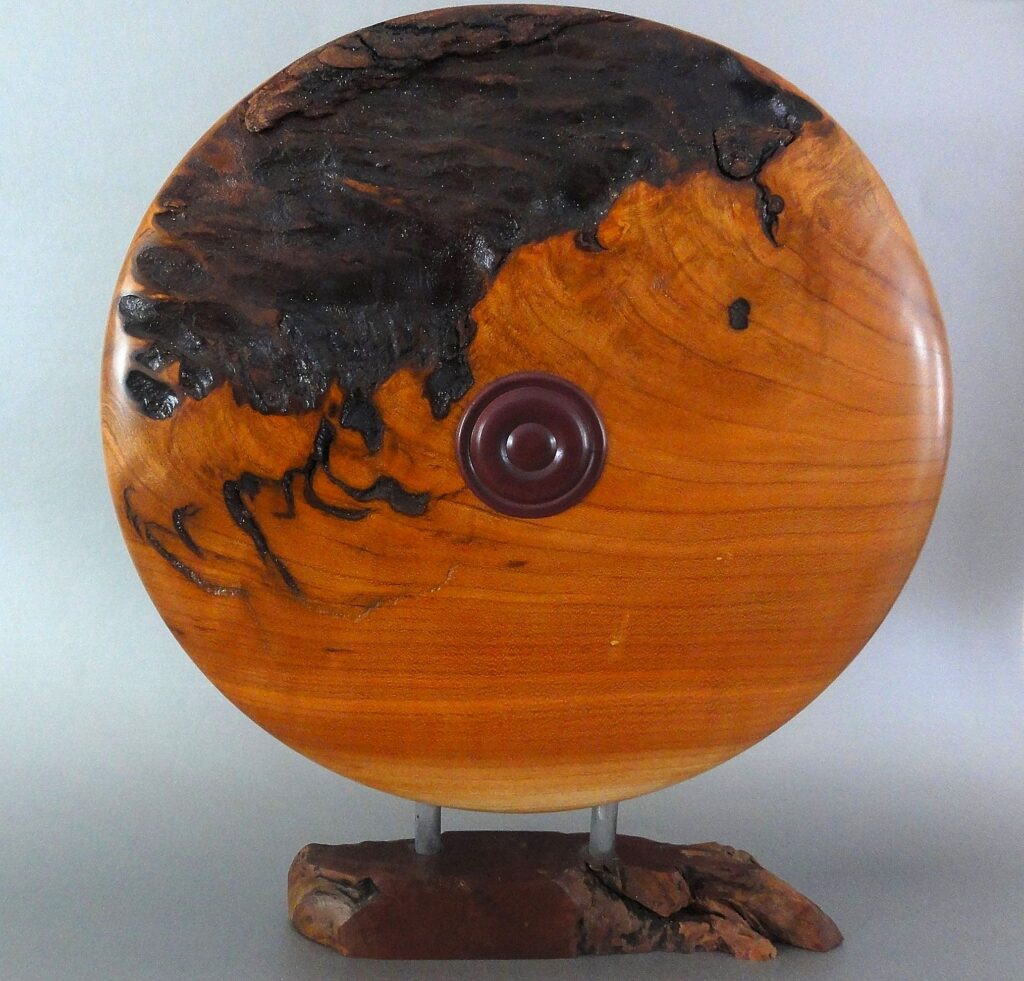 Natural edge disk
Cherry natural edge disk mounted on a root burl base.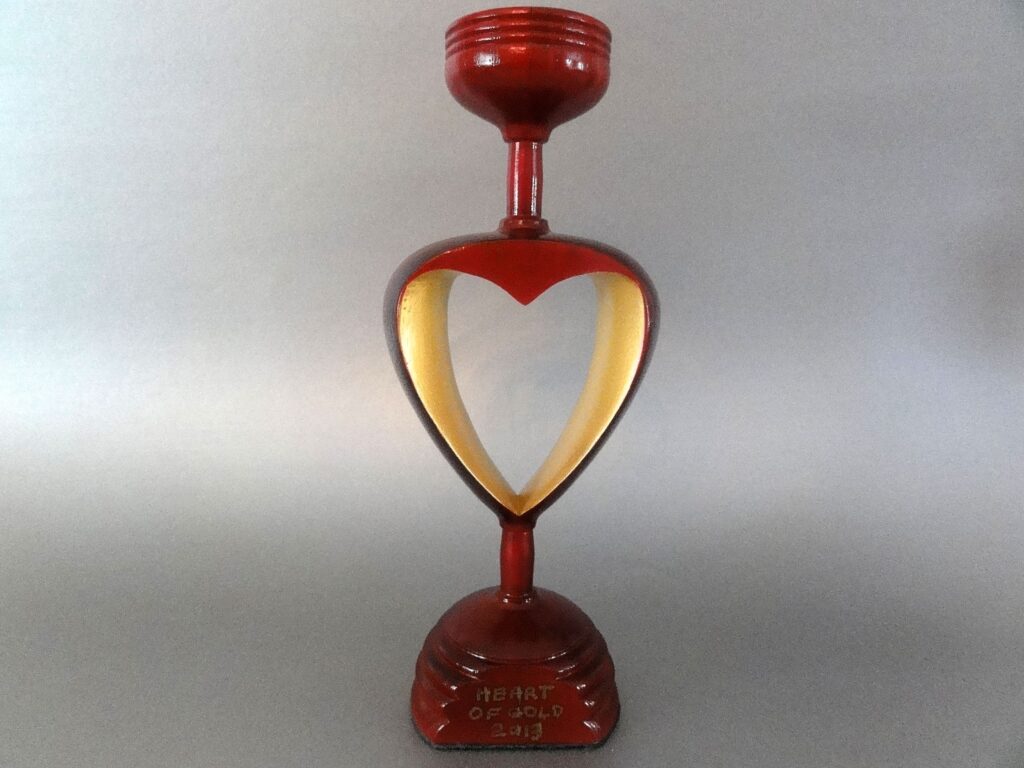 Inside out Heart Candle Lite Holder
Cherry inside out candle holder. This piece is all turned on the lathe.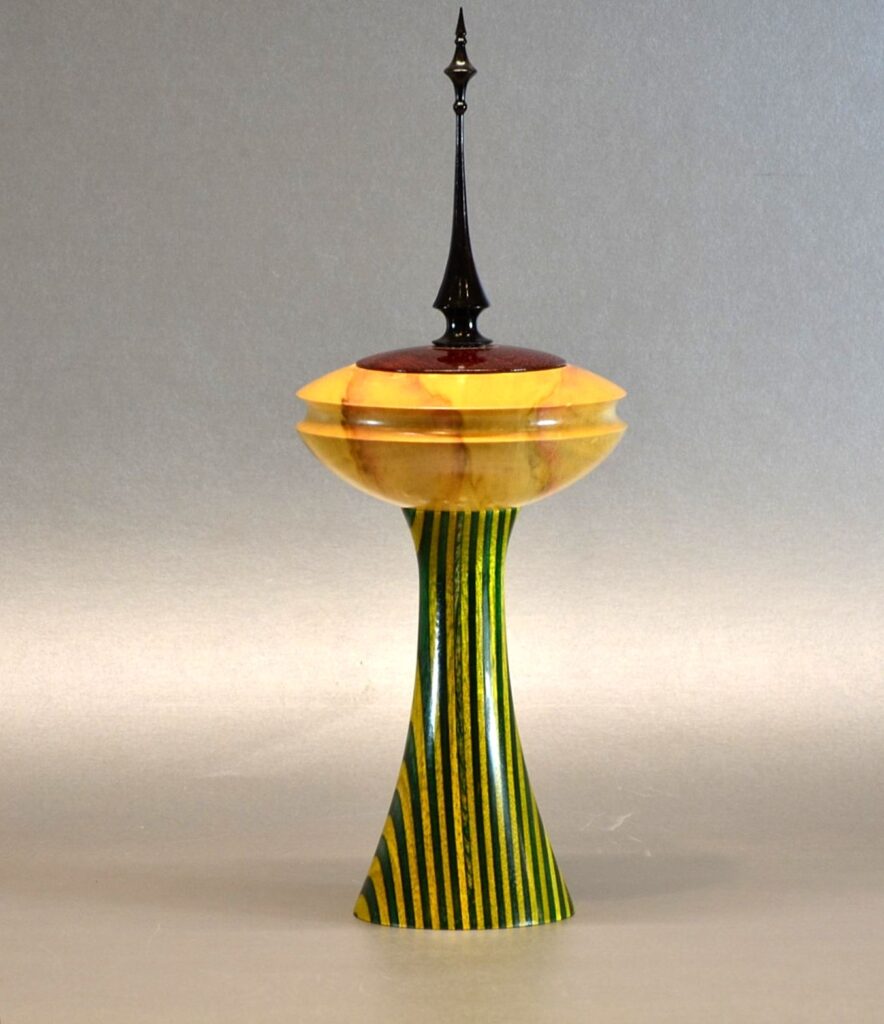 Seattle Space needle
This replica of the Seattle Space Needle is made from four different woods, African Blackwood, Purple Heart, Box Elder and colored Spectraply. The bowl is hollowed and the finial is removable.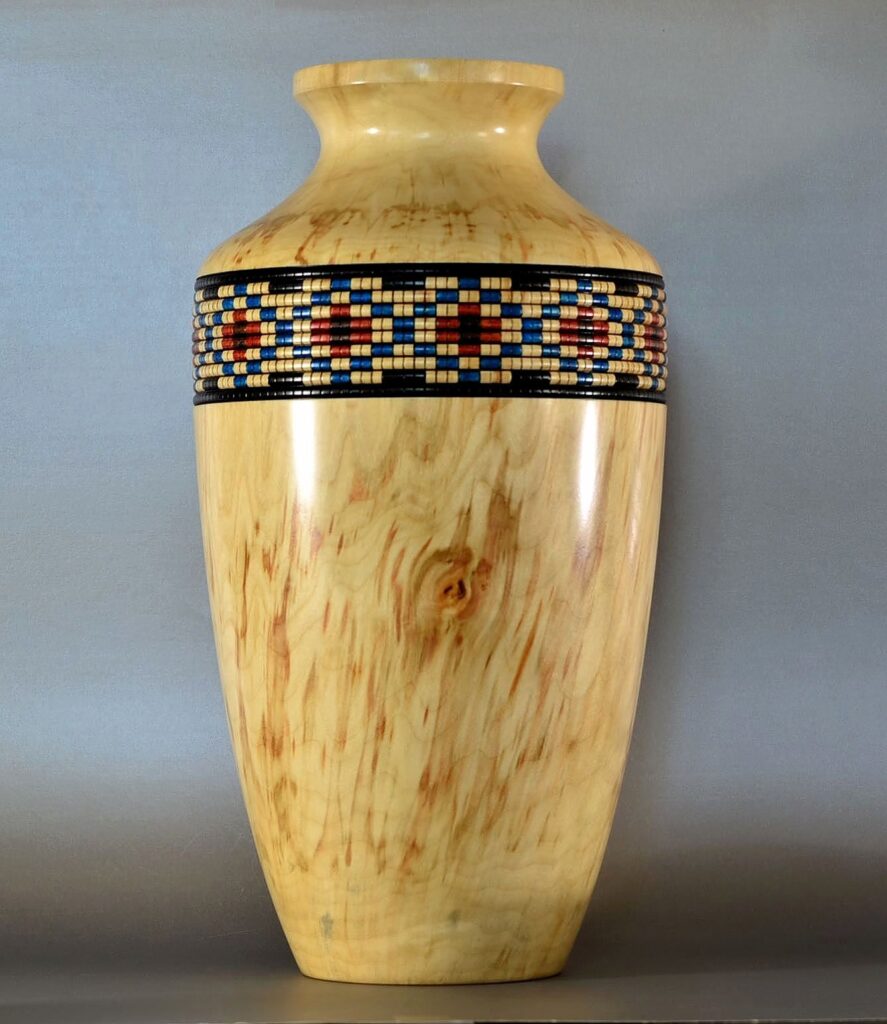 Box Elder vase with basket illusion band.
The band around this vase was beaded, pyrographed and a pattern was created using India ink.
Dyed Oriental disk with Lichtenberg design.
The Lichtenberg design is applied to both the front and back of this Cherry disk. Dyes are applied to achieve that sunrise oriental look.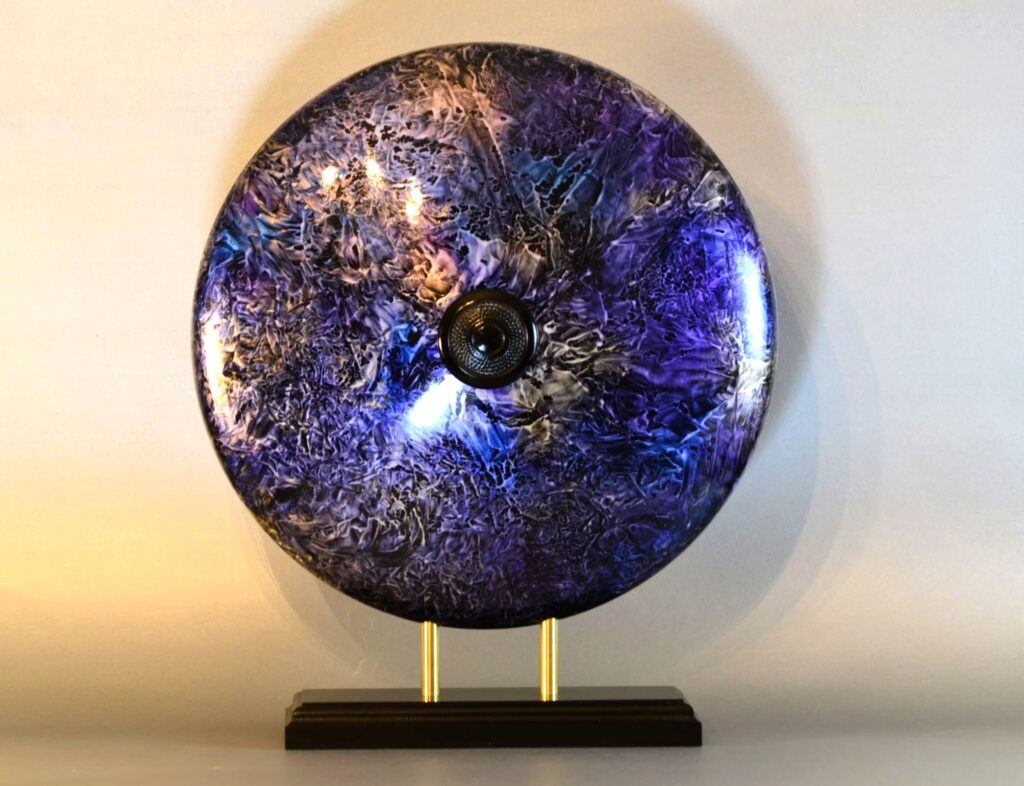 Iridescent paints on brass mounted disk.
This Cherry disk was enhanced with iridescent paints which were applied with a special process.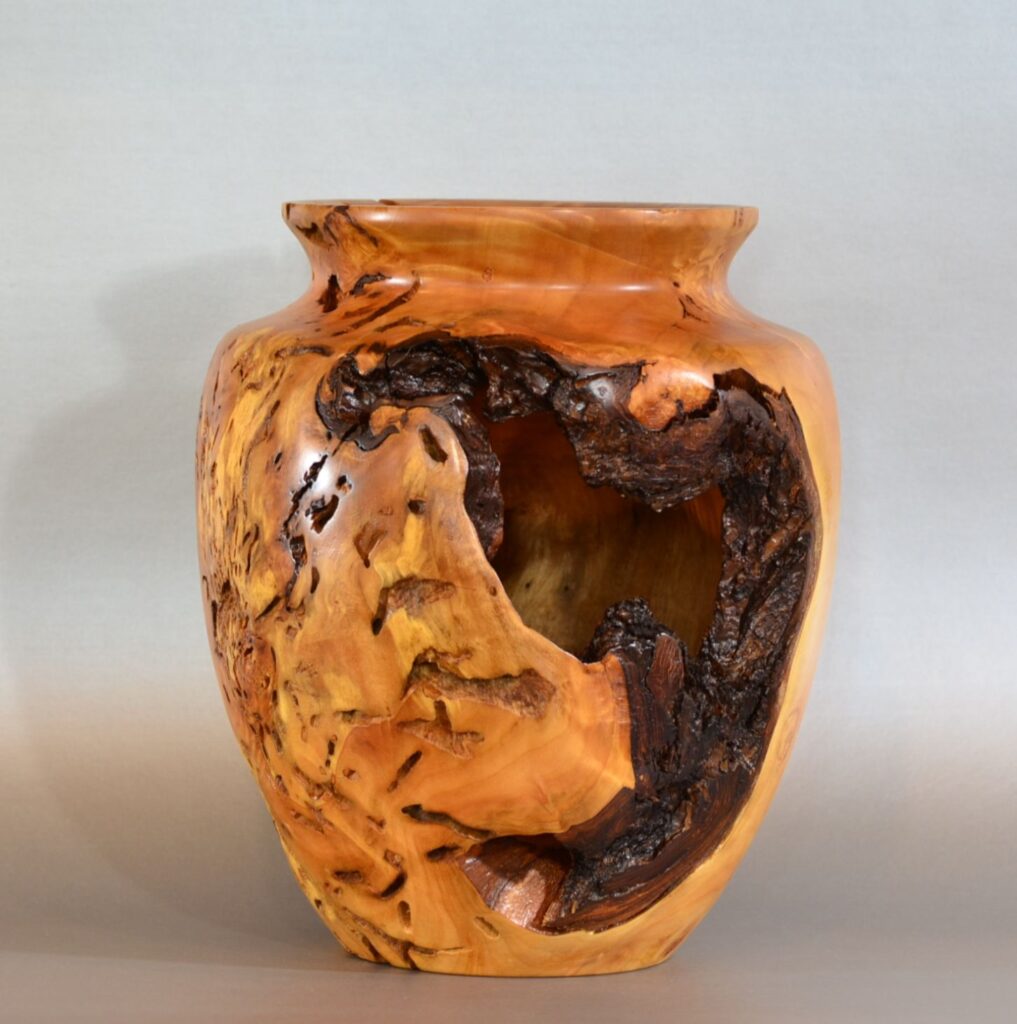 Apple wood vase
This wormy piece of Apple wood was harvested from our property. The bark inclusion, grain orientation and worm tunnels make this piece one of a kind.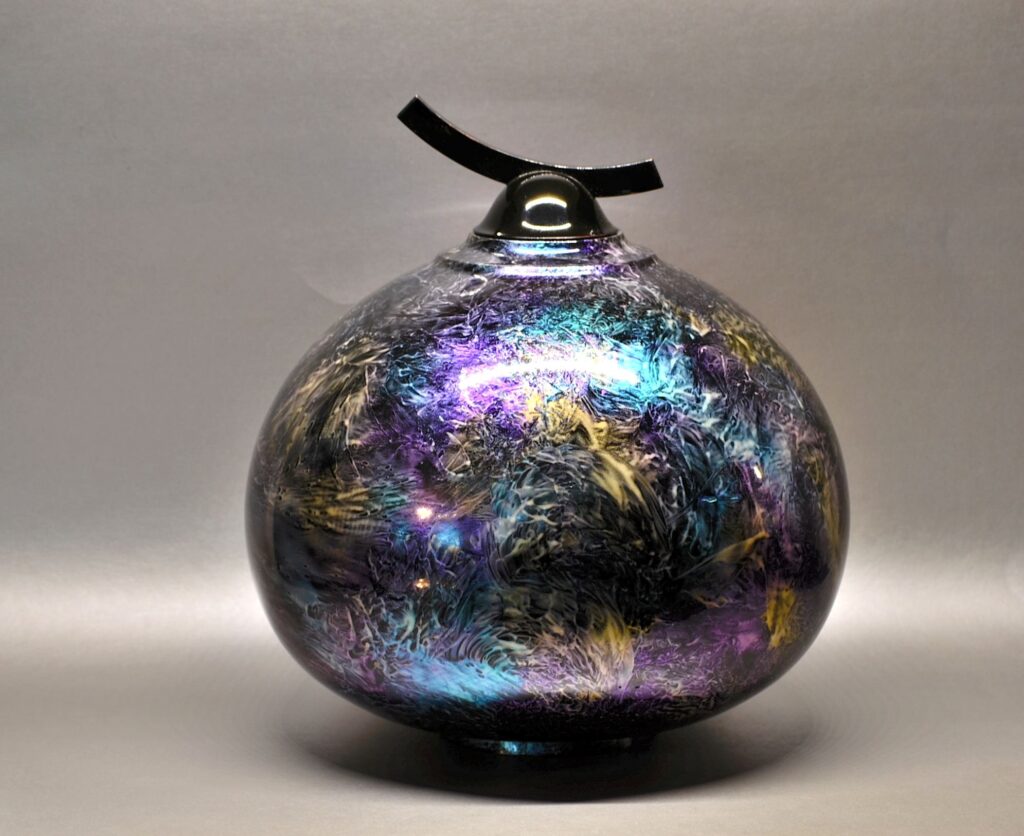 Hollow Form with iridescent paints
This Cherry vase is hollowed and iridescent paints applied to achieve this unique look.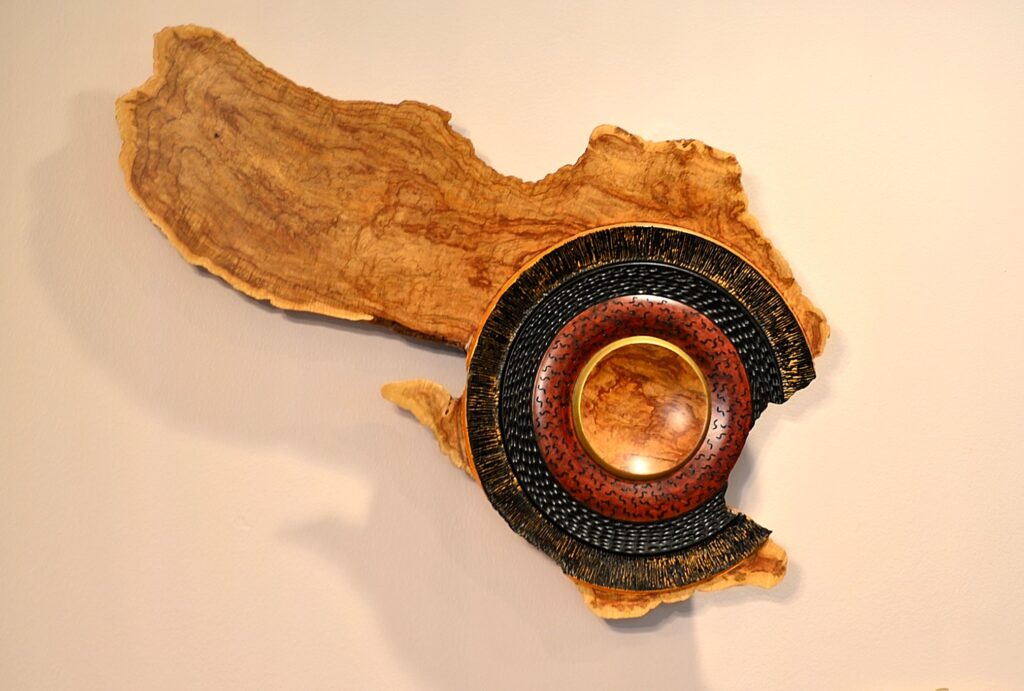 Cherry Burl wall sculpture
This piece of Cherry Burl was turned, textured, carved, pyrographed and various dye and patinas applied.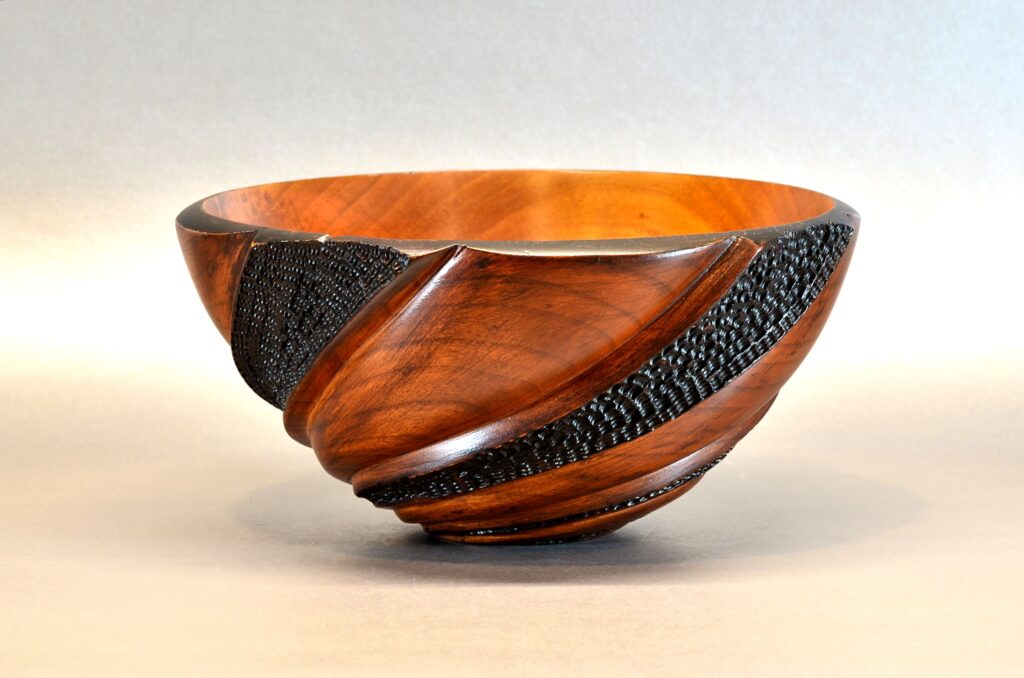 Carved Cherry Bowl
A simple Cherry bowl that was enhanced with beads and coves that spiral around the outside of the bowl. Pyrography used on the coves.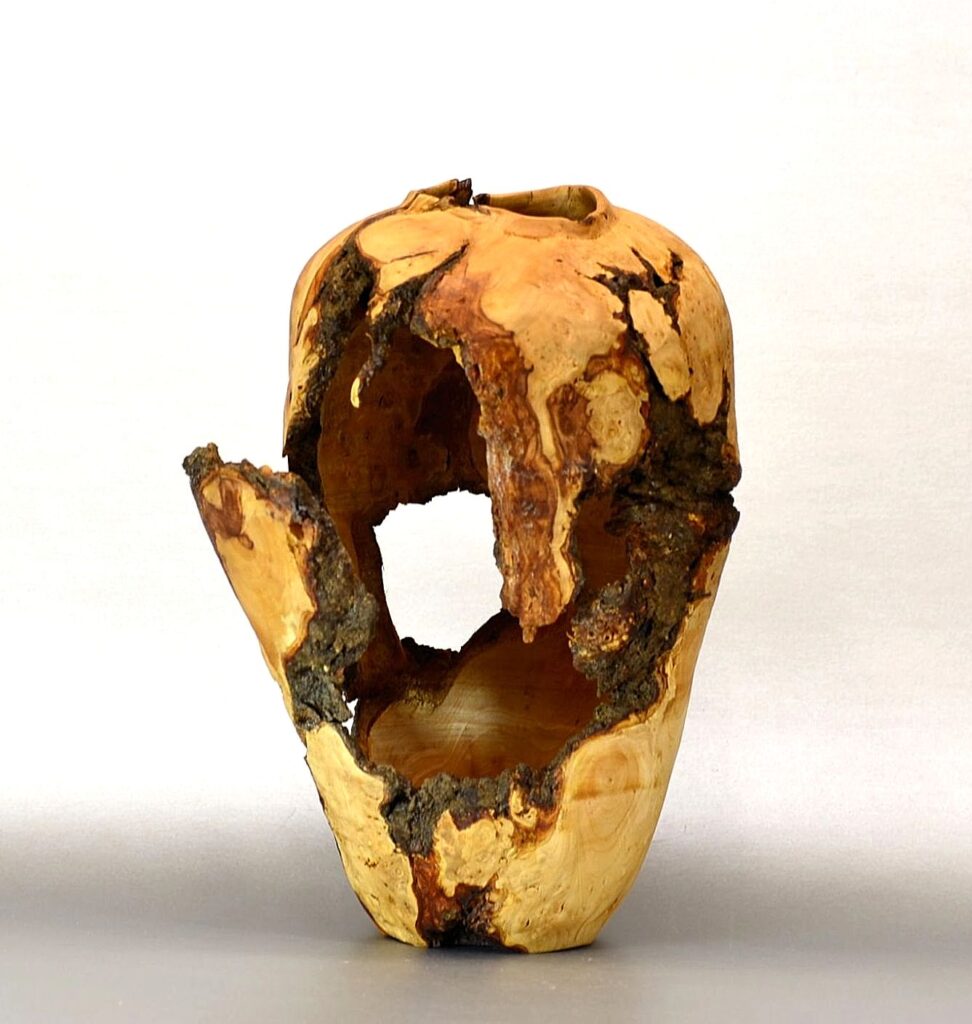 Honeyberry root vase
This Honeyberry root was turned wet and I let it dry on its own so nature can do whatever it does best.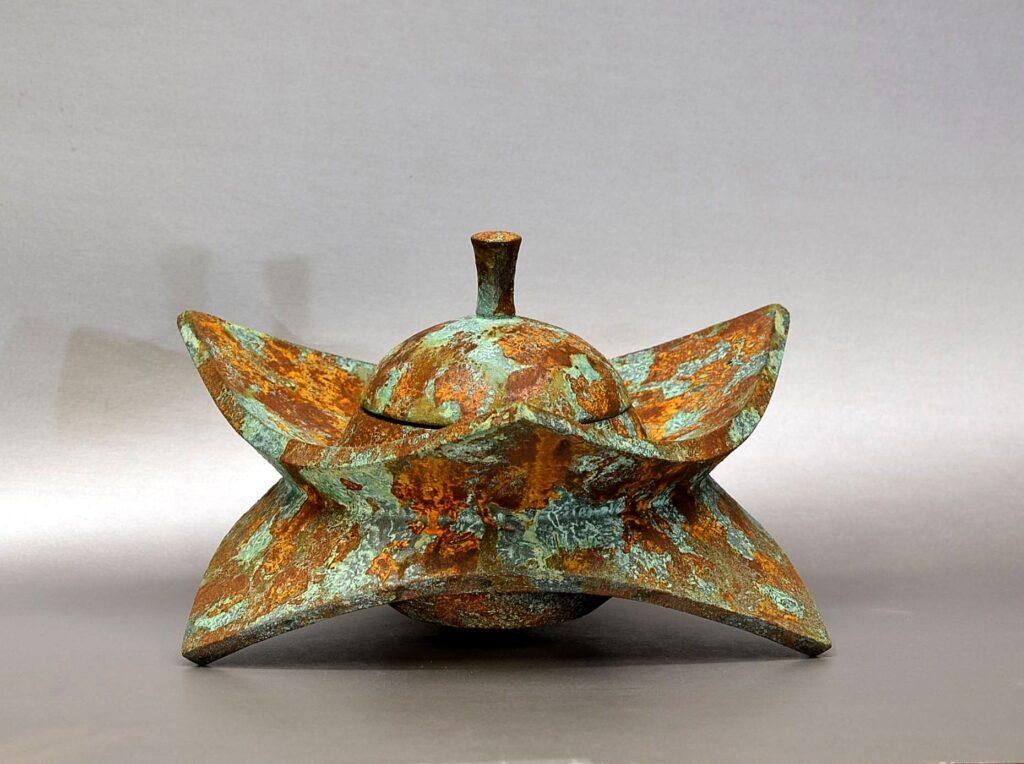 Maple 3 corner bowl
A double 3 corner bowl with removable lid. Metal Reactive Paints and Patinas were used to achieve this aged look.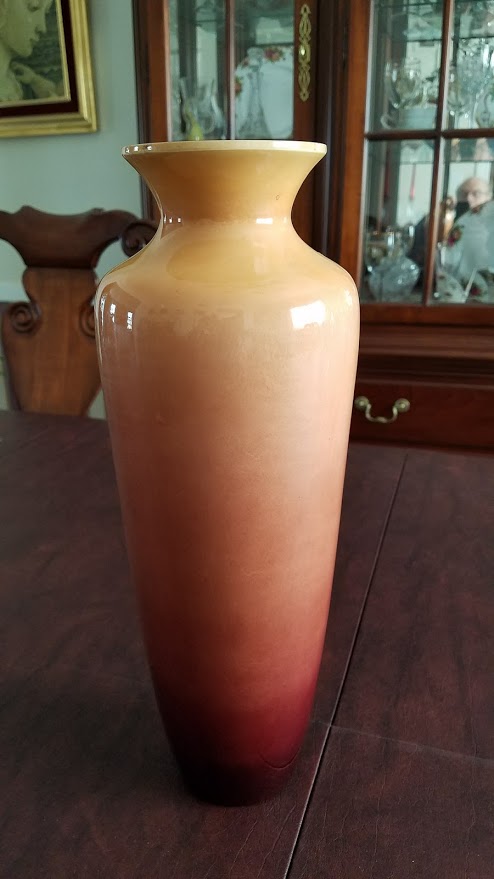 Maple Ombre Vase
This Maple vase was bleached and an Ombre coloring process applied.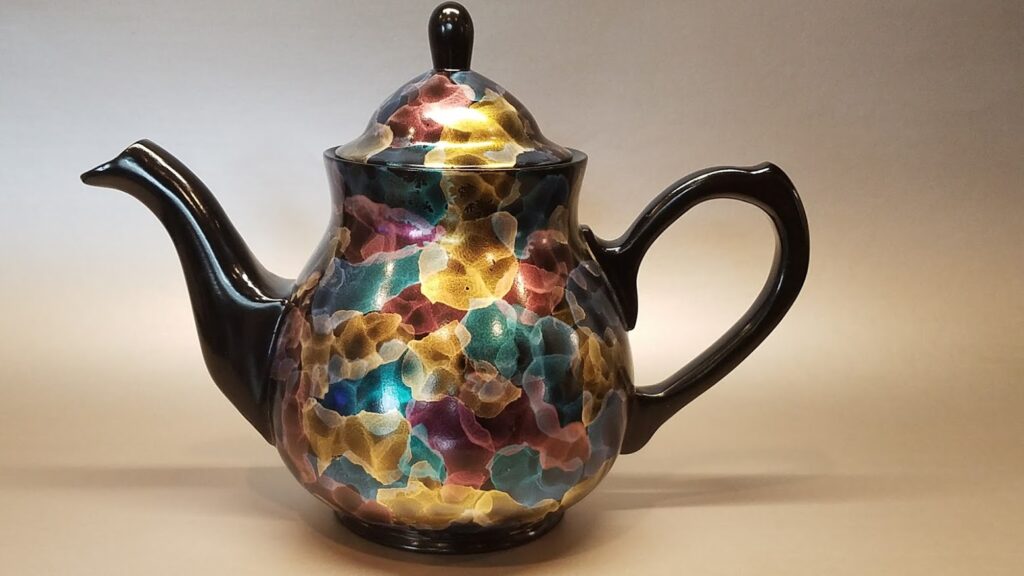 Cherry Teapot with iridescent paints
This Cherry teapot has a removable lid. A unique technique was used to apply the iridescent paints.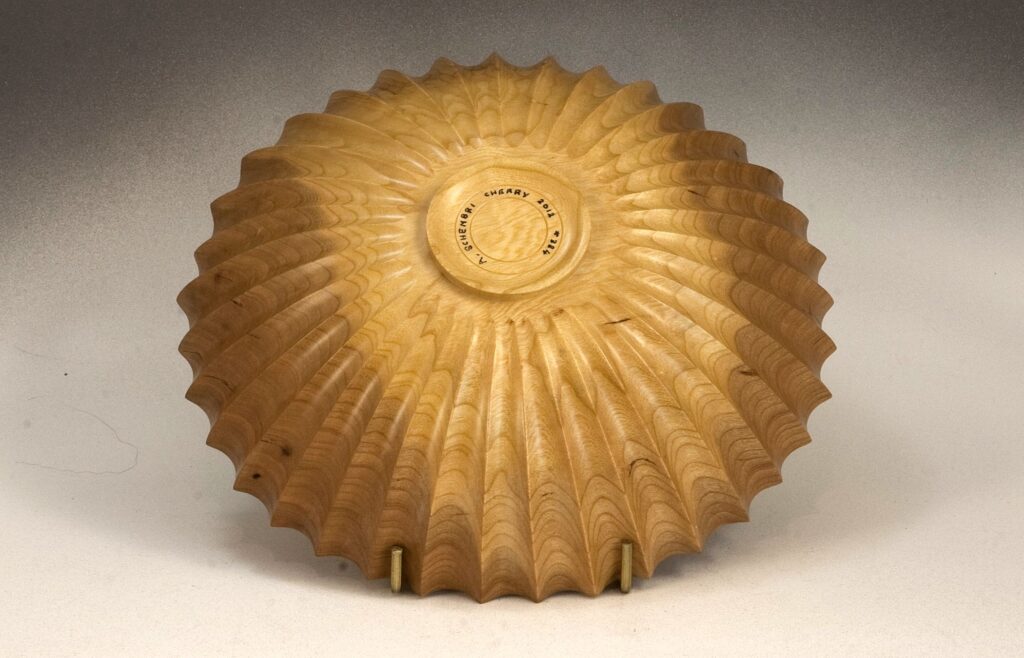 Carved Cherry Bowl
This Cherry bowl incorporated hand carved coves.
A listing of my work is available in the shop.